Sound Investing with Commercial
Multifamily Real Estate

Get Started
Why Multifamily Real Estate?

Earn better returns and grow long-term wealth through commercial multifamily real estate investing.

Real Estate vs Traditional Investments
Since 2000, direct real estate investments have outperformed traditional investments. Investing at least 20% of your portfolio in alternatives like commercial real estate is known as the "20% rule." Using the 20% rule helps earn greater returns and secure financial freedom.
Through the 20% rule, investors have earned about twice as much as investors who used a more traditional allocation.
Real estate return data is from the NCREIF Property Index (NPI Index), while S&P return data is from Yahoo Finance. Real estate return data should not be used to estimate returns of Master Multifamily investments. While the NCREIF Property Index (NPI Index) represents the total return for private commercial real estate properties (across multiple asset types) held for investment purposes, all Master Multifamily investments are private commercial multifamily investments and can vary in performance.
9.06%
Annual Return
WITH REAL ESTATE
7.68%
Annual Return
WITH S&P 500 INDEX
Commercial multifamily real estate provides many long-term wealth building opportunities

Long Performance History
Multifamily apartments satisfy the basic need for shelter. As a result, they have a strong history and will continue to remain in demand.

Stable Asset Class
Unlike the stock and bond markets, commercial multifamily investments have few downturns with 300% fewer down years since the Great Depression.

Multiple Tax Advantages
There are 4 unique tax advantages available to multifamily investments that aren't accessible to stock or bond investments.

Lower Volatility
The performance of a multifamily apartment is measured by its income and isn't vulnerable to the same volatility seen with paper assets.

Passive Ownership
Have all the benefits of real estate ownership without the hassles of being a landlord through direct fractional investing.

Lower Risks Than Stocks
Multifamily investments have the best Sharpe ratio over the last 20 years and provide compelling risk-adjusted returns with regards to other asset classes.

No Legal or Debt Liability
You are protected from the legal and financial exposure that comes with active ownership through non-recourse lending, LLC structured investments, and insurance coverage.

Low Correlation to Stocks
Multifamily investments allow for improved stability and diversification that isn't found in a traditional stock heavy portfolio.

The upcoming demographic wave brings in a strong future

Since the 1950s, U.S. economic cycles have lasted on average 5 and a half years according to the National Bureau of Economic Research (NBER). However, multifamily investments are controlled by much longer, 30 to 40 year-long, demographic cycles.
US POPULATION: AGE 20-34 (IN MILLIONS)
The 20-34 age group is the single largest age group that rents
There are over 67.5 million people aged 20-34 in U.S.
Currently, 60-70% of those people rent
This number is expected to grow over the next 30 years
Source: US Census Bureau
How Our Process Works

Our process is built for wealth building through dependable returns and protection of principal.

1. Market Selection
We look throughout the United States for markets that have a strong history of stability and growth with projected long-term performance. Within these markets we target desirable neighborhoods that are good candidates for multifamily apartments.
3. Operations
During operations we focus our efforts on increasing and maintaining occupancy, optimizing gross income, and reducing overall expenses. Through these efforts our goal is to maintain or improve the property grade.

2. Acquisition
Through a rigorous multi-month due diligence process, we analyze each multifamily property for potential yield and equity growth. Only properties that meet high standards are considered for acquisition.
4. Liquidity and Distribution
Our market selection, acquisition, and operation processes all work to help improve the Net Operating Income (NOI) and annual cash flow of a property. As the NOI rises, the value of the asset increases as well as your investment.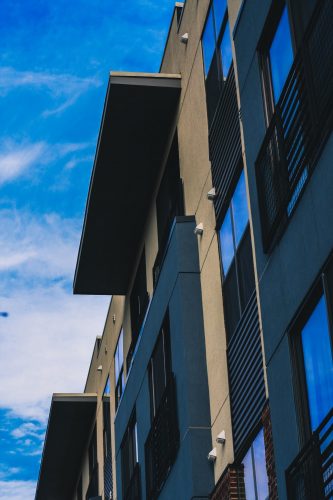 Multifamily Apartment Investing For Your Future

Get Started